Exact dosage of additives in the feed: The MediPut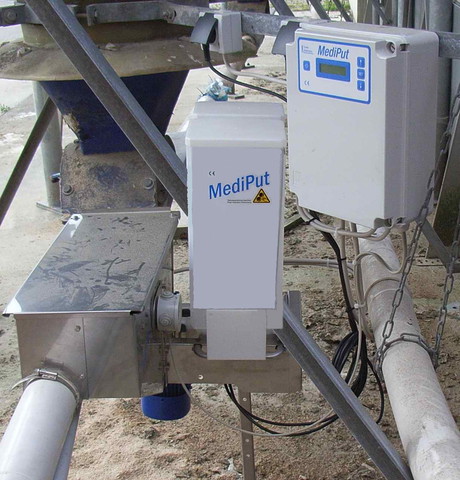 The MediPut is our best-selling product. With it, solid and liquid additives such as medicines and vitamins can be added into the feed quickly and reliably – and so homogenously that the animals do not taste the often not so nice additive. They take the medication well and get healthier faster.
The dosing containers can be easily removed and cleaned. The computer ensures the correct dosage of additive. In addition, it records how much medication has gone into the barn. This is essential for today´s documentation requirements.
The MediPut naturally fulfils all legal standards for the oral administration of powdered or liquid medicinal products to livestock.
Many variations
Our MediPut is now available in many different versions: with and without measurement of the feed flow rate. There is also the MediPut Mixer for liquid feeding and batch mixers as well as the MediPut liquid with or without stirring for dry feeding systems.
For large additions, we have developed the MediPut Big and the MediPut Big XXL for shell limestone or grit.
DATA SHEETS
This post is also available in: German