Save water – reduce manure: the SuperBowl self-service drinking trough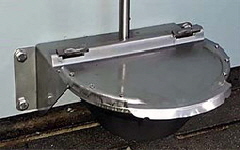 With a conventional nipple drinker, far too much unused water flows into the cesspit. Simple drinking bowls do not sufficiently solve the problem, as often it ends up with more water being wasted. With the SuperBowl we have found a hygienic solution, which reduces the volume of liquid manure. The SuperBowl prevents a lot of water being wasted.
In practice, it has been shown that pigs learn faster to open the lid of our self-service drinking trough with their snouts, than when using a nipple drinker. This even works with piglets that have just been weaned.
A clean thing
At the same time, the SuperBowl is protected by a lid, and this prevents faeces or urine from entering the bowl.  Therefore, it stays cleaner for longer.
Upgrading the pigsty is cheap and easy. A reduced volume of manure results in longer storage periods and reduced transport costs.
DATA SHEET
TRIAL DATA ON LIQUID MANURE REDUCTION